If you frequently login in from the couch or the kitchen table, it makes a lot of sense to invest in the best work monitors for your home office. Even if you have a portable business laptop that you can carry with you on the go, its form factor isn't ideal for continuous usage, especially if you're doing complex design work.
You won't be doing your back or neck any favors by slouching over a laptop for hours on end, so if you want to work from home in comfort, a good-sized monitor with high specs is a must-have. While any ordinary monitor will suffice for routine office and administrative tasks, those in creative professions want displays with a bit more visual punch.
This is where we can be of assistance. We've compiled a list of the best home-office monitors, including options for screen size and a variety of handy extras. Because we don't want you to give up and go back to the screen on your MacBook Pro, we made sure they had excellent picture quality and color accuracy. The highest quality monitors are also the most expensive, but there are still affordable options for those who like to work from home.
Want more of a variety? We've identified a broad variety of models that will serve your needs, whether you want the finest 4K monitor, the best work monitor for picture editing, or the finest ultrawide monitor for your home office. If you're looking for our recommendation for the best work monitors for home office, keep reading!
The best work monitors are perhaps one of the most utilized pieces of workplace machinery when considering everything you use daily. You spend a lot of time in front of your monitor, so it's crucial that you pick one that's comfortable to use and useful for your work.
The advantages of picking up a decent display include:
Improved satisfaction at work. Seventy-five percent of American workers think monitors are important at their desks. A high-quality display is essential for remote employees since it improves their ability to see details and work together during video conferences.
Enhanced efficiency. According to a recent poll, remote employees believe that a high-resolution, big, and immersive display is the single most important factor in their increased productivity. Ultrawide displays are one tool that can improve productivity and efficiency by allowing you to multitask with greater ease.
Ease your eyes' stress. As a remote worker, you probably know the feeling of dry eyes and headaches from gazing at a screen for too long. Commonly called "screen time," this condition can cause serious eye fatigue. Curved displays and those with blue light filters have been shown in studies to be the most effective in reducing eye strain.
How To Connect A Laptop To An External Monitor
You may set up a dual-display setup with your laptop and an external monitor, or you can use the external monitor as your laptop's primary display. If you connect a laptop to an external monitor, the screens will reflect each other. However, more data may be viewed simultaneously on a larger screen with a greater resolution.
However, by expanding your desktop to two monitors, you may work on two windows at once, greatly increasing your productivity. Due to this, you may use two full-screen programs simultaneously. The additional screen will allow you to better manage your programs and streamline your workflow.
The productivity improvements are substantial, whether you use a single program extended to occupy both displays, or two full-screen apps (one on each display). You won't have to scroll to locate what you're looking for, and you won't have to switch between applications as often. Word processors (opens in new tab) and spreadsheets (opens in new tab) benefit greatly from the usage of dual monitors, as do web browsers (opens in new tab), email clients (opens in new tab), and PDF readers (opens in new tab).
The monitor and laptop in this dual-screen setup should be at the same eye level. The Scribbler suggests using a laptop stand (opens in new tab) that tilts the keyboard to an angle of 45 degrees. Once you pair your laptop with an external monitor, you'll wonder how you ever got by with just one screen.
You can read our review on the best laptops under $500 you can buy today.
Best Work Monitors For Home-office 2024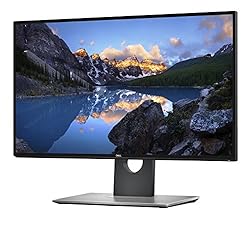 As an alternative to or in addition to your laptop's native display, you may get a Dell 25-inch monitor featuring a high-quality 2K QHD IPS panel.
The default colors and brightness of the screen are excellent, and the panel is bright enough for most uses. Its excellent ergonomics allow the user to easily switch to portrait mode by tilting, elevating, swiveling, and turning the device 90 degrees. You may place it on a wall bracket or a desk arm thanks to its VESA compatibility.
The panel has a fantastic SDR color spectrum and can accept input at a level of 10 bits. SDR functionality requires an HDMI connection, though. Despite Adobe's reliable sRGB support, designers for print media should go elsewhere.
Two of the four downstream ports on the Dell U2518D are designated as fast-charging connections, capable of supplying power to devices requiring up to 2A per port. The cable hole that has become emblematic of Dell's stands may be used for a variety of connections. The display may be turned off without interrupting the hub's functionality, allowing you to utilize a camera or USB drive for continuous monitoring.
Using just one DisplayPort connection, your laptop may be connected to two displays.
The monitor's default settings are stunning, and making adjustments using the four buttons in the On Screen Display menu in the monitor's lower right corner is a breeze. The "ComfortView" feature can reduce blue light emission from the screen, making the computer less stressful on the eyes over the long term.
This Dell model is the best option for most people working from home who need to strike a balance between affordability and performance; however, there are more feature-rich variants available. The icing on the cake is Dell's generous three-year warranty.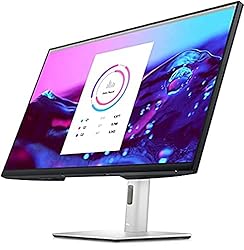 If you want to run a successful company out of your house, you need as few limitations as possible. As a docking monitor, this Dell model supports many interface standards (including USB-C) to shorten the time it takes to get set up and maximize output. In order to use your mouse, trackball, webcam(s), keyboard, and USB sticks without tethering them to your laptop, Dell created this device as a hub for all of your devices.
With its huge body and magnificent 31.5-inch 4K IPS screen, this laptop makes it easy to see more content and get more done. With 4K resolution, you'll have no trouble seeing every nuance in enormous spreadsheets or navigating intricate programs.
The shiny matte black chassis and silver metal support exhibit these premium features in a contemporary package. The on-screen menus for adjusting the display's brightness, contrast, and color temperature are navigated using a single joystick. The stand allows for height, lowering, tilting, swiveling, pivoting, and rotating the monitor into portrait position. The rear of the screen features 100×100 VESA mounting holes, so you may attach it to a monitor arm or the wall and avoid having to use the included stand.
DisplayPort 1.4, HDMI 2.0, and DP Alt mode on USB-C are the three video interfaces that allow you to charge your laptop while watching video. The four USB 3.0 ports and RJ45 network connector allow you to retain all of your fixed cabling—including fast Gigabit Ethernet networking—on the display, rather than on your laptop.
It's worth noting that Dell now includes a "speaker out" option. As an optional extra, Dell provides a magnetic connection for a small soundbar that may be installed behind the screen. The Dell SB521A Slim Soundbar does not include a headphone jack, thus wireless headphones or speakers must be utilized.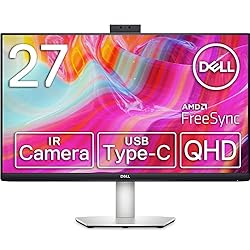 With more and more people choosing to work remotely, video conferences have become the norm for team communication. We've all been accustomed to working with colleagues who utilize low-quality webcams, have poor lighting or microphones, or whose cameras are placed in an unusual location, resulting in amusingly off-kilter images. The webcam issues are hindering communication.
Back and neck pain are another issue that can arise from working from home, especially when using a laptop with a smaller screen. For this reason, a lot of people who work from home end up getting an extra display for their laptop. With the S2722DZ, Dell has created a silver bullet for the home worker dilemma by combining a high-quality screen for remote work with a high-quality camera.
The display is great for graphic designers because of its IPS screen, which allows for accurate color reproduction over 99 percent of the Adobe sRGB color space. It has a potential to be a decently bright and handy display with its 350 nits of brightness, 1,000:1 contrast ratio, and 75Hz refresh rate.
Yet its distinct features—a 5MP IR pop-up camera with wide viewing angles and noise-cancelling microphones—make it stand out from the crowd. The high-quality camera and microphone will allow you to look and sound your best throughout your video conversation. In addition, the two 5-watt speakers provide clear communication with your teammates.
The monitor's rear ports support connections through DisplayPort, USB-C (alternative DP mode), and HDMI. Powering a laptop using the USB-C connector is convenient because it can supply up to 65W. The unit's two 5Gbps USB 3.2 downstream connections are conveniently located on the back and left underneath.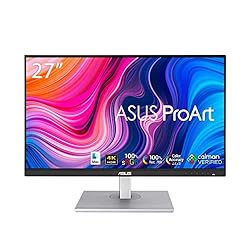 A 4K UHD screen improves productivity in a home office. The stunning visuals produced by ASUS ProArt Displays are available in a range of color accuracy. The ProArt PA279CV is an ultra-widescreen display.
Instead of using a 2K QHD PA278CV, you may use this 4K monitor. Complete support for sRGB allows creators to work with accurate colors and crisp visuals. A total of 12 different display modes are available for your perusal and modification through the bottom buttons.
It's ideal for those working from home who edit photos or movies or use productivity software, thanks to its higher information density and larger color range. The large display makes it easier to perform several tasks at once. Work for extended periods of time without straining your eyes thanks to the absence of flicker and the use of blue light filters.
The stand has a cable-management clip in addition to narrow bezels and a minimalist design. This screen is perfect for the office because of its matte anti-reflective coating and its ability to display the whole sRGB color space.
Use USB-C (DP alt mode), DisplayPort, or HDMI to link up with your PC. You can hook up peripherals like cameras, keyboards, mice, and trackpads to the screen without going via a computer thanks to the four USB 3.1 type-A downstream ports. The monitor's USB-C port doubles as a power source, letting you charge your laptop as you watch a movie.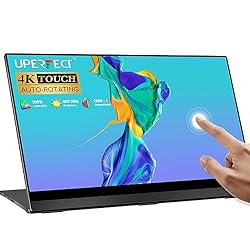 If you do your job from home, you might not always have the luxury of a dedicated office. Sometimes, your laptop might take up a lot of desk space, and you may need a supplementary display that won't take up too much room. Put in a movie for the kids when you're done with it. This is made feasible by the best portable work monitors (opens in a new tab) like this one.
The only catch is that we weren't familiar with this company until now. While we were at first skeptical, the hundreds of favorable ratings and comments left by members of the notoriously finicky Mac community on Amazon ultimately persuaded us that this wasn't a scam. Brands like ASUS, which only offer Full HD models, have yet to catch up to the competition in this area.
This UPerfect 4K monitor, with its aluminum frame and 15.6-inch IPS display, produces ultra-high-definition (UHD) visuals that are nothing short of breathtaking. When folded, the PU leather cover case may be used as a display stand. Its display boasts a wide viewing angle of 178 degrees, a refresh rate of 60 frames per second, a brightness of 400 nits, and a color palette of 100 percent sRGB. Because it has a low blue light setting, your eyes won't be harmed by using it, either.
It also has a microphone and speaker system. The included VESA mount (75 x 75mm) makes it possible to attach this screen to a wall.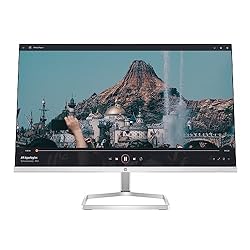 In spite of a lack of funds, it is possible to acquire an external monitor to enhance your home office. You'll be able to see everything clearly on this HP 24MH monitor. Its display is bigger than that of your laptop, yet it won't consume your entire desk.
It has a solid build, and it looks great thanks to the small panel and almost nonexistent bezels. The display's maximum refresh rate of 75 Hz, compared to the Windows standard of 60 Hz, helps to provide clean and sharp images over a wide range of viewing angles (178 degrees horizontal and vertical, respectively). However, you must adjust the refresh rate in Windows' display settings from 60 to 75 Hz.
You can connect it to a modern PC through DisplayPort or HDMI, but for those on a tighter budget, the fact that it also has a VGA connector will come as a welcome relief.
This monitor has a number of advantages over comparable models, including a swiveling base, a height adjustment range, and a screen that can rotate by 90 degrees. As the colors move to a warmer spectrum with more realistic whites, you may ease the strain on your eyes by switching to the Low Blue Light setting. Its speaker may seem underwhelming, but don't let that fool you; the system still performs admirably. Best budget option for best home working monitor.
Buying Guide For Best Work Monitors For Your Home Office
Monitors are convenient for working from home, but not all displays are made equal. Use these guidelines to help you select from the best work monitors for your home office:
Choose a screen that is of adequate size
You should get a monitor with a large enough display if you're in the market for a new computer. It's crucial to pick a screen size that works for you because it will effect how you enjoy the content. Screens come in a wide variety of shapes and sizes; it's up to you to figure out which one is best for you. Choose a laptop that is a good match for your device, as they come in a variety of sizes.
Check the resolution and brightness
In order to get the best results from your design work, you need to calibrate your display first. Inaccurate colors and a jarring visual experience are the results of sloppy calibration. Here, we'll show you how to calibrate your display using either the device's own settings or external software.
You should have a high enough resolution to see clearly, and the brightness should be adjustable so you can use it in a variety of lighting circumstances. Screens with a high resolution contain more pixels, which results in clearer images.
Choose a monitor with an anti-glare coating
A good camera is the one you carry with you at all times. The same is true for the screens you watch on. You shouldn't be forced to use a monitor that gives you a headache or strains your eyes. So, pick a screen with anti-glare features.
The anti-glare coatings are available on both matte and glossy screens. Glossy screens reflect more light yet appear more colorful because of this. You should choose a glossy screen if you'll be working in bright conditions, or if you just like the way it looks. However, a matte display is the best option if glare is an issue.
You should know that not all matte displays are made equally. This is an excellent choice for modern laptops, which often include high-resolution displays.
Choose a screen with an HDMI port
Screens come in a wide variety of styles and sizes nowadays. Think about what you'll use the screen for most while making your selection. The presence of an HDMI port is an important characteristic to look for in a new display. Using an HDMI cable and a connector on your screen, you may connect your computer or other device to your display. If you want to play games or view films on a bigger screen, this may be useful. In other words, you may use this cable to hook up your laptop to the TV.
How We Test The Best Work Monitors
When evaluating displays, we use a Klein K 10-A colorimeter and software. This high-quality scope measures brightness, color gamut, and color accuracy.
Candela per square meter (cd/m2) measures brightness. More nits implies a brighter picture, better color, and a more realistic image. For basic monitors, we anticipate a display backlight to provide between 2-300 nits of brightness. However HDR displays typically surpass that. Brightness alone doesn't create an excellent display because some monitors wash out colors or have irregular backlighting.
HDR testing is difficult because new capabilities and standards allow monitors to have greater peak brightness than our traditional tests measure. Read a review to learn how a product handles these difficulties.
Displays also prioritize color. Monitors with a broader sRGB or P3 color gamut emit more colors. Higher percentages mean more colors.
Color accuracy measures how well a monitor reproduces a shade. Delta-E represents the amount of divergence from the ideal. Higher scores imply less accuracy.
Leo Bodnar input lag tester tests a display's reaction time. This gadget monitors how long a signal takes to travel from a source to a monitor. This number is important for gamers and anyone who wants an instant onscreen response.
Finally, we utilize every display for online surfing, streaming video, gaming, and writing reviews. Anecdotal testing typically reveals display oddities that lab testing misses, such as scaling difficulties or lighting or color abnormalities.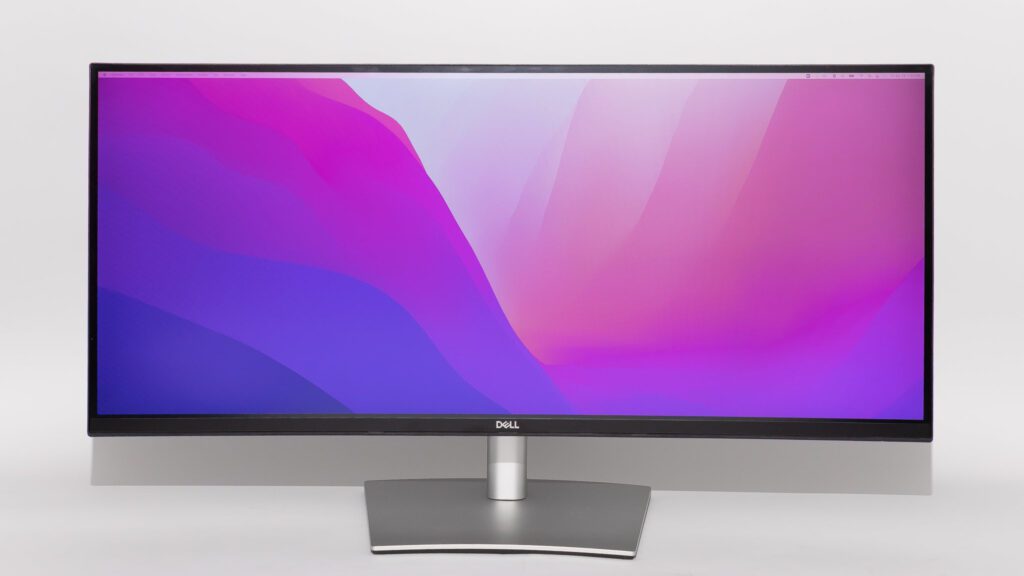 Q: What is the importance of choosing the best work monitor? A: Choosing the best work monitor is important because it directly impacts productivity, visual comfort, and overall work efficiency. A high-quality monitor with suitable features can enhance clarity, reduce eye strain, and provide an optimal viewing experience for extended work sessions.
Q: What should I consider when looking for the best work monitor? A: When looking for the best work monitor, consider factors such as screen size, resolution, panel type, ergonomic features, connectivity options, color accuracy, brightness, response time, and viewing angles. These aspects contribute to a comfortable and productive work environment.
Q: What screen size is recommended for a work monitor? A: The recommended screen size for a work monitor depends on personal preference and the available workspace. However, popular choices typically range from 24 to 27 inches, as they offer a good balance between screen real estate and desk space utilization.
Q: What resolution should I choose for a work monitor? A: The recommended resolution for a work monitor depends on the nature of your work and personal preferences. Common resolutions include Full HD (1920×1080), Quad HD (2560×1440), and 4K Ultra HD (3840×2160). Higher resolutions provide more screen space and sharper images, but they may require a more powerful graphics card.
Q: Which panel type is suitable for a work monitor? A: The panel type suitable for a work monitor depends on specific requirements. In general, IPS (in-plane switching) panels are popular for their wide viewing angles and accurate color reproduction, making them ideal for tasks that require color precision. However, TN (Twisted Nematic) panels offer faster response times, making them suitable for fast-paced work or gaming.
Q: Are ergonomic features important for a work monitor? A: Yes, ergonomic features are important for a work monitor as they contribute to a comfortable and healthy working posture. Look for monitors with adjustable stands, tilt, swivel, and height adjustments to optimize the viewing position and reduce strain on the neck, back, and eyes.
Q: Should I prioritize color accuracy for a work monitor? A: Color accuracy is crucial for tasks that involve graphic design, photo editing, video editing, or any work that requires accurate color representation. If your work involves color-sensitive tasks, consider monitors with high color gamut coverage, color calibration options, and factory calibration.
Q: Are connectivity options important for a work monitor? A: Yes, connectivity options are important for a work monitor to ensure compatibility with your devices. Look for monitors that offer a variety of ports, such as HDMI, DisplayPort, USB-C, and USB hubs. This allows you to connect multiple devices and accessories conveniently.
Q: Can a high-brightness monitor be beneficial for work? A: A high-brightness monitor can be beneficial for work, particularly in brightly lit environments or when dealing with content that requires vivid colors. Monitors with higher brightness levels provide better visibility and can improve screen legibility and visual comfort.
Q: Are there any additional features to consider when choosing the best work monitor? A: Yes, additional features to consider when choosing the best work monitor include blue light filters to reduce eye strain, flicker-free technology, built-in speakers or audio outputs, energy-saving certifications, and compatibility with monitor arms or multi-monitor setups.
When selecting the best work monitor, prioritize your specific work requirements, comfort, and viewing preferences. Consider the features mentioned above, along with user reviews, expert recommendations, and budget constraints to find the ideal monitor that suits your work needs.
Consider the dimensions of your desk and working area as you weigh the many features of potential monitors. For instance, if your desk is limited in size, you probably don't want your computer screen taking up much of your desk's real estate.
Therefore, a display of at least 24 inches in width is recommended for productive use. Larger monitors, especially those that are 24 inches or more, often offer better resolution and color accuracy than their smaller counterparts.
Choose a monitor that will allow you to work comfortably and efficiently, regardless of the task at hand. A high-quality monitor may improve your work-from-home experience and boost your productivity.
Our pick among the overall best work monitors for home office is Dell UltraSharp U2518D monitor.