The best drones for fishing will provide you with a fresh viewpoint of the water you're fishing in. A polarizing lens on a drone's camera allows for underwater viewing, making it easier to find the ideal fishing place.
SwellPro's bait release devices are only one example of features that might help streamline this procedure. These may be operated from afar or by manually tightening or loosening the rope attached to the drone. And since we've included a few drones with decent cameras, you can easily make a comprehensive satellite-style map of your favorite fishing site if you have a strong preference for a specific location.
Range, the maximum distance from which the drone can be controlled while still receiving a video signal, is an important consideration when shopping for a drone to use when fishing. Though you may not be able to fly this far due to restrictions, you may still get a feel for the strength of the radio signal.
You may be anxious about crashing your first drone if you've never flown one before. Don't worry about it. At the very least, the GPS hover function is included in the arsenal of every drone here. Because of this, you may take off, maneuver freely, and release the controls without fear that the plane will crash. Drones with higher price tags often have collision avoidance sensors.
Best Drones For Fishing: Review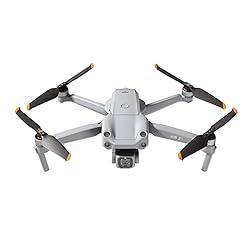 If you can take off on solid ground, this is your best bet for a smooth flight and a high-definition livestream (1080p). In the realms of photography and filmmaking, there are many who would be envious of this drone. The gimbal-stabilized camera isn't waterproof like many others, but it can be pointed straight down and comes with a simple filter attachment mechanism, so you can add a polarizing lens and look beneath the surface of a lake.
It can be folded up and taken wherever, and the propellers barely make a sound. Its robust engines allow it to return home even when the wind is blowing strongly. DJI's charging accessories are high-quality, and the control software is simple enough for newcomers to operate while still providing access to more complicated settings when necessary.
The Air 2S is equipped with a suite of sensors that help it avoid obstacles, so you can fly it through forests without worrying about crashing into any trees. Check out our DJI Air 2S review for further information.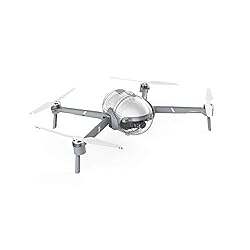 As well as this highly versatile airborne drone, PowerVision is well-known for their underwater drones. A little of on-site construction is needed, especially if the drone is to be outfitted with the waterproof casing and floating landing skids, but the trade-off is a strong drone that can land on the water's surface and take off again.
PowerVision doesn't brag about its speed, but it's still manageable in gusts of up to Beaufort Scale 5, so that's saying something. The software is quite user-friendly, and the live feed on a mobile phone (linked to the remote) provides a good image of what the camera is viewing. You may add your own voiceover narration to the drone footage of your lake mapping using the microphone on your smartphone.
Even though the camera sensor is a basic 1 / 2.8 inch CMOS (like a common phone), the picture is perfectly crisp for fish detection thanks to the three-axis gimbal. Afterward, if you decide to switch hobbies, you can remove the drone body from its arms and utilize the 'egg' as a stabilized action camera – very versatile!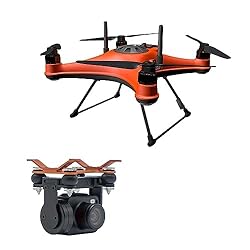 A water-ready drone with an IP67 rating? That's for sure. The SplashDrone 4 is a robust, though rather pricy, choice, weighing in at over 2 kilograms with a load capacity of approximately the same (that's around 25 pieces of bait on a line). Even more so when combined with the PL1-S bait release device.
The drone can take off and land on water, thanks to its orange body, and if it ever ends up upside down, it can miraculously correct itself. With the NaviFly app (note: a phone clipped atop the remote control is required), you can enjoy all the perks of a high-end consumer drone pilot, such as a high-res live view and intelligent follow. The IP66 waterproof remote also comes with some nice additions, like as a bait release and more conventional-feeling buttons and switches.
The SplashDrone family of drones from SwellPro is compatible with a variety of payload release mechanisms for "skytrolling," allowing you to fish from the shore up to 1.6 kilometers away without the need for a boat.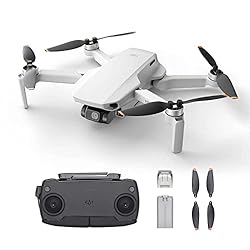 The DJI Mini SE was developed as the company's entry-level drone. Although it lacks several cutting-edge capabilities and its 2.7K video recording may annoy techies, the 720P live video on the phone's display is surprisingly clear.
Like other DJI drones, it runs the same well-maintained, user-friendly software. The camera may be remotely tilted and stabilized on a gimbal for clear footage.
Crucially… Prepare for the curtain call… Even at its lightest, the Mini is close to the limit that necessitates licensing. Which implies you can skip the FAA paperwork if you're in the United States.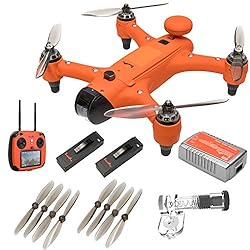 No doubt about it, this appears to be a useful piece of nautical equipment, and the TrollSafe bait release tool, which can be purchased separately, will make it indispensable to some anglers. When the line tension is high enough, the bait and line are released when you cast them out.
It's a thrilling drone with robust motors. Sometimes this might be a problem: GPS homecoming can be a little too exuberant. However, SwellPRO has improved the appearance and functionality of the program since the initial release. That's great since down below is where an FPV racing drone's brain resides (opens in new tab).
The resolution of the video you see on the display is lower than that of more photography-oriented drones like DJI's, but the latency of the video feedback is far lower. The remote control, which is also waterproof, features a color LCD display.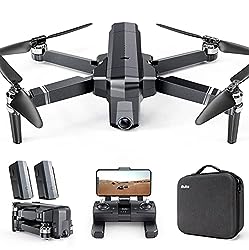 If you're on a tight budget but still want a drone, the Ruko F11 Pro Fishing Drone is your best bet. Its beginner-friendly yet feature-rich layout is ideal for a wide range of users, including vacationers, fishermen, and remote pilots of all skill levels. The fishing drone has a built-in novice mode for pilots with little to no expertise.
The drone also has a GPS return home feature, so you can be assured that you won't lose it. Still, the built-in 4K UHD camera ensures excellent results, with a wider field of view and higher resolution than competing devices.
As a result, you'll have photographic evidence of your fishing prowess, the day's catch, and the marine ecosystem in general. The camera on the drone can be rotated 90 degrees and has a field of view (FOV) of 120 degrees, allowing for a far more expansive field of view for filming.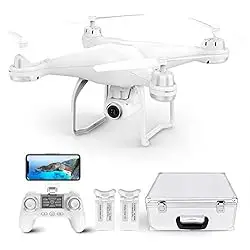 The Potensic T25 GPS Fishing Drone is our pick for the finest low-priced fishing drone. But the drone has some really amazing practical functions. It has an integrated 2K 120 FOC camera with an adjustable 75-degree lens for capturing ultra-wide angles in both video and still images.
For trustworthy video transmission over greater distances and through WiFi, the camera is a perfect match. In addition, the GPS Assist Fly feature included into the fishing drone makes it easy to snap photos of the action without exerting too much effort.
With the GPS Assist Fly's Follow Me and Dual GPS functions, you can put your attention where it belongs: on fishing. When taking photos or videos, the drone will automatically track your movements thanks to its GPS system. To begin your adventure, just adjust your flight path to your liking.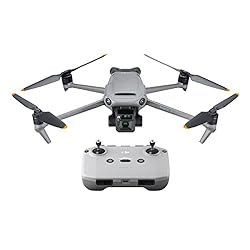 The DJI Mavic 3 fishing drone is the ideal tool to take your fishing videos to the next level. The 20-megapixel, five-different CMOS Hasselblad sensors included in this fishing drone with camera combination are the latest innovation in image capture technology and provide stunning imagery.
Its 12.8-stop dynamic range ensures that both bright and dark areas of your movie look great. Aside from its high-quality video and camera, the fishing drone can stay in the air for an extended period of time and can transmit its feed to a faraway location.
You can catch your fishing trip in adequate detail with its 46-minute flying time from a single, completely charged battery. The 9.3-mile video transmission range, on the other hand, opens up a lot of new possibilities for exploration and photography. If you use it in conjunction with the O3 Plus transmitting mode, your live feeds will be reliable and seamless.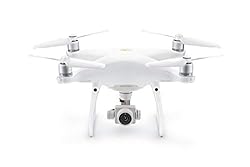 It has a high-quality camera with a 20-megapixel CMOS sensor and a 1-inch sensor. The maximum frame rate is 60 frames per second at 4K. DJI's camera and video stabilization systems guarantee flawless results. With this drone, you may enjoy the thrill of discovering fish in their natural environment.
It's ideal for drone fishing, as its range is more than sufficient at over 3.5 miles. Hovering is effortless and steady with this thing.
It can stay powered for up to 5 hours, and it can fly for up to 30 minutes at a time on a full charge. This should get you around 25–27 minutes in the air, much than enough time to cast your bait and use the "return to home" function.
You may hook your fishing lines and baits to it, and it can carry up to 500 grams in weight. It may be used to drop bait in hard-to-reach spots where a lot of fish are waiting. In any case, it is not strong enough to be used for pulling large fish from the water.
The 5.5in 1080p screen is so brilliant that watching film outside in the sun is not a problem at all.
You can put all your attention on what you're shooting because of how simple and straightforward the camera is to use.
This unmanned aircraft system is equipped with defense mechanisms to keep itself safe. It has the ability to detect threats coming from all five directions and to evade them. Avoiding crashes is not a concern.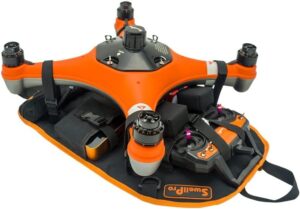 The Inspire 1 is ready to fly at any time. Unpacking it is required before use. Even untrained pilots can learn to fly. Well-designed parts help the drone fly smoothly.
Controller is a quadcopter's "brain." It gathers data in any weather. This assures the spaceship follows the pilot's orders.
Drones upset aerial photographers. Image quality declines. Carbon fiber arms help the ship hide. They enable 360-degree photography. Lightweight drones improve maneuverability. Aerodynamic chassis lowers wind resistance and prolongs battery life. Landing straightens Inspire 1's legs. This drone's computer-controlled capabilities include auto takeoff and landing, one-key photos and records, one-key flying stops, smart shots, rotation, cable cam, following me, and selfie.
Upgraded Inspire 1 propulsion makes flying easier. 13-inch fast rotors with Z-shaped blades.
DJI created Inspire 1's brushless motor. Curved magnets block airflow gaps, improving fuel efficiency and performance.
The Inspire 1's remote makes taking images and films easy. A photographer may take steady photos from different angles using the gimbal's control dial. The pilot flies as the photographer shoots. Sharing quadcopter video.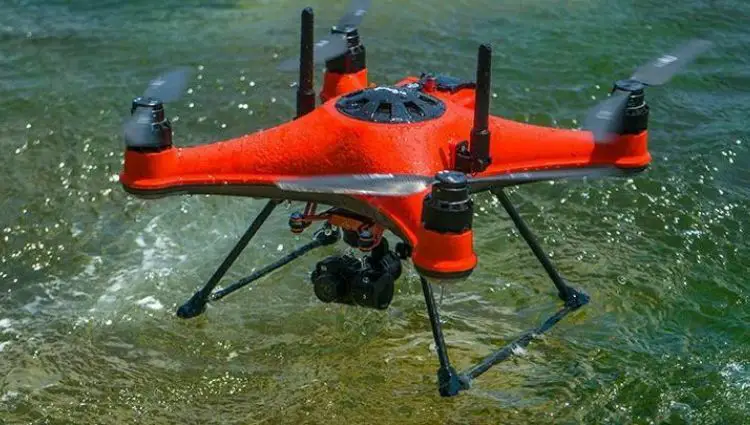 How We Test For The Best Drones For Fishing
We think it's crazy to buy the first fishing drone you see when you're ready to buy one, because not every drone out there is designed to help you with your best fishing trip.
The best fishing drones has to have the following features if it is going to be a trustworthy and helpful companion: a large enough flying range, sufficient battery life, a large enough cargo capacity, and a high quality camera. Checking all these features in the drone you buy may seem like a lot if you're just getting started.
After reviewing a wide variety of drones, we settled on this shortlist as the best drones for fishing. We have thoroughly tested these models using the parameters I have described above before settling on the drones we would propose you for your fishing game.
Can a drone catch a fish?
Since drones became commercially accessible during the past decade, recreational anglers have found a new technique to scout for fish and cast a line. Some modern drones are waterproof and can carry hefty bait. Amateur fisherman may acquire a sonar-equipped submersible drone with a light-up lure. Some films purport to show fishermen catching fish using drones, but most of these devices weigh only a few kilos, making it doubtful they could reliably pull in fish, especially hefty species like ulua. They may carry a hook further than the best-cast line.
How do you fish with a drone?
You may utilize a drone as a form of aerial reconnaissance to find fish in the water below. You may also use a drone to drop a bait line into the water from the beach or a boat, sending the bait and hook far further than you could by casting.
The International Game Fish Association permits the use of outriggers, downriggers, kites, etc., to trail baited lines, so long as the line releases at the first sign of a bite. The International Game Fish Association has given its OK to the use of drones in fishing, so long as the line releases either before or after a fish strikes the bait.
How To Choose The Best Drones For Fishing: A Buying Guide
When looking for the best fishing drone, you should consider these four criteria.
Battery Life
Having a drone with a long battery life is essential for drone fishing. Running out of power when flying over water can be disastrous unless you have a waterproof or submersible fishing drone. The best commercially available drones can only stay in the air for up to 34 minutes at a time. Most drones can stay in the air for 15 to 25 minutes, which is plenty of time to fly to your target area, drop your bait, and fly back to you.
Camera
The type of pictures and video you get from a fishing drone depends on the quality of its built-in camera. Drones for fishing should have high-resolution cameras to capture clear still images and fluid video. On the other hand, you might purchase a drone onto which you could mount your preferred camera.
Distance
A fishing drone has to have excellent range so that it can keep fishing without losing contact. When shopping for a surf fishing drone, range is essential. Even a short-range drone will suffice for tuna fishing in rivers. Just bear in mind that you are only allowed to fly your drone within visual range of you at all times.
Payload
Make sure your fish drone can fly with weight attached if you plan to use it to drop bait. Pick a fishing drone with enough payload to carry your line, hooks, and baits if you plan on using the drone for surf fishing. Bear in mind that carrying a high payload may quickly drain the battery and alter the drone's flight characteristics.
Final Thoughts - Best Drones For Fishing
After looking over all 10 of these drones, some of which are quite exceptional and well-liked, I can confidently declare that this was not a simple task this to choose the best drone for fishing. The DJI Air 2S is the best fishing drone in our opinion. But the PowerVision PowerEgg X Wizard put up a good "fight," and I anticipate that it will eventually outperform the DJI Air 2S. Unless, of course, SwellPro releases a new version of their drone in the near future.
The DJI Air 2S's ability to be customized was a major factor in my decision to make it the finest fishing drone. Payload release mechanisms and recording cameras are user-swappable. There are several devices available to pick from. There are five types of payload release mechanisms and a single camera.
The ability to capture footage is another reason I think the DJI Air 2S is the ideal drone for fishing. This makes it easy to show off your catch to friends and family afterwards.
In 2021, after researching and comparing several alternative drones that may be useful for fishing, I settled on the best option. However, new fishing drones are becoming on the market all the time. Consumers benefit from this since it encourages businesses to improve their products and gives us access to more advanced fishing drones.
FAQs for Best Drones For Fishing
Q: What are the best drones for fishing? A: The best drones for fishing are specifically designed to assist anglers in locating fish, delivering bait, and monitoring fishing spots. These drones typically have features like long flight times, durable construction, waterproofing, and payload capabilities.
Q: How can drones assist in fishing? A: Drones can assist in fishing by providing an aerial view of the fishing area, helping anglers locate schools of fish, scouting for potential fishing spots, and delivering bait to hard-to-reach areas. They can also capture footage of the fishing action for documentation or entertainment purposes.
Q: What factors should I consider when looking for the best drones for fishing? A: When looking for the best drones for fishing, consider factors such as flight time, range, payload capacity, stability and maneuverability in various weather conditions, camera quality, GPS features, ease of use, and the drone's ability to withstand water splashes or submersion.
Q: What is the recommended flight time for a fishing drone? A: The recommended flight time for a fishing drone depends on the fishing needs and the distance to be covered. Look for drones that offer a flight time of at least 20 minutes or more, as longer flight times allow for extended fishing sessions and exploration.
Q: Can fishing drones carry bait or fishing lines? A: Yes, fishing drones can carry bait or fishing lines. Many fishing-specific drones come with a payload release mechanism that allows you to attach and release bait or fishing lines at specific locations, extending your casting range and reaching areas that are otherwise difficult to access.
Q: Are waterproof or water-resistant drones necessary for fishing? A: Waterproof or water-resistant drones are highly recommended for fishing to ensure their durability and protection against water splashes or accidental submersion. Fishing environments often involve water, so having a drone that can withstand such conditions is beneficial.
Q: Can fishing drones capture aerial footage of fishing activities? A: Yes, many fishing drones are equipped with cameras that can capture high-quality aerial footage of fishing activities. This allows anglers to record their fishing sessions, monitor fishing spots, or create exciting videos of their fishing adventures.
Q: Do fishing drones require any special permits or licenses? A: The regulations regarding drone usage vary by country and region. Before using a fishing drone, it's essential to familiarize yourself with local drone laws and requirements. In some cases, you may need to obtain a permit or license to fly a drone for fishing purposes.
Q: Can fishing drones be controlled remotely from a distance? A: Yes, fishing drones can be controlled remotely from a distance using a controller or a smartphone app. Most fishing drones have a specific range within which they can be operated, so ensure that the drone you choose meets your desired distance requirements.
Q: Are there any additional accessories or features I should consider for fishing drones? A: Some additional accessories or features to consider for fishing drones include fish finders that can be attached to the drone, anti-collision sensors, follow-me modes, waypoint navigation, and real-time video transmission to a mobile device.
When choosing the best drones for fishing, carefully consider your fishing needs, budget, and the specific features mentioned above. It's also important to review user feedback, expert recommendations, and adhere to local drone regulations to ensure a safe and enjoyable fishing experience.