If you want to find the best laptops for DJs, you've come to the right place. There are many different ways to set up a laptop for DJing, depending on the DJ software you want to use and which of the many DJ controllers you want to pair with it. But the laptop is the same whether you choose Serato, Traktor, Virtual DJ, rekordbox, Ableton, or any other solution.
No matter what kind of setup you like, you'll need a computer to run your DJ software and store your music. Even though setups can be very different, the requirements for a good laptop for DJing are pretty much the same everywhere.
Some of the laptops on our list of the best laptops for DJing and our list of the best laptops for making music might be the same ones on the other list. Not surprisingly, the things that producers want in a machine aren't that different from what DJs look for in a laptop. In fact, you might be looking for a single machine that can do both, and many of the ones in this guide will be happy to do so.
There are, however, some important differences between what you should look for in a DJ laptop and what you should look for in a studio laptop. In the buying tips below, we'll go into all of that in more depth. But first, here are our top choices for the best DJ laptops of this year…
Best Laptops for DJs Reviews
These are the 10 best laptops for DJs, and we review them in depth.
1. Apple M1 13-inch MacBook Air (2020)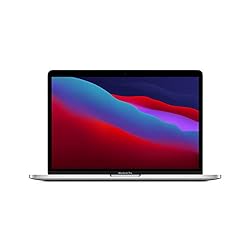 The newest model of Apple's MacBook Air strikes the ideal combination of power, dependability, and mobility, making it ideal for DJ use. The new M1 chip has an 8-core CPU, a 7-core GPU, and a 16-core Neural Engine, and the base level of 8 GB of RAM is more than sufficient for operating any major DJ app.
Serato Pro and Rekordbox DJ are only two examples of popular DJ software that runs natively on the M1 chip; for those that haven't been updated yet, Apple's Rosetta 2 translation tool may do the trick. We have experimented with a wide range of musical instruments in both formats and have found the experience to be usually smooth and steady.
DJs and musicians who frequently hit the road will appreciate the MacBook Air's portability and compact design. Battery life of up to 18 hours is also outstanding, making it ideal for touring DJs who spend a lot of time waiting around in airports, on trains, or in the dressing room.
The MacBook Air's biggest drawback is that it only has two Thunderbolt 3 and USB 4 ports (and one of those is used for power). Using just one controller with an integrated interface should be fine; however, you may need to track down a USB 4 connector if your DJ controller doesn't come with one. Sometimes a second hub or adapter is needed for more intricate configurations.
Also, even the base model of the Air has a somewhat meager 256 GB of storage space to work with. Since connecting external storage may be difficult due to the lack of ports, we advise purchasing an expanded SSD, which can be upgraded to 2TB. The greatest DJ laptop that won't break the bank is the MacBook Air.
Read the full review of the Apple M1 MacBook Air.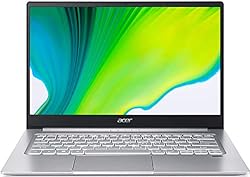 The 'cheap ultrabook' from Acer is frequently mentioned as a Windows alternative to Apple's MacBook Air, and we believe this to be an accurate comparison, at least with regard to earlier iterations of the MacBook Air. Like Apple's small computers, these laptops are surprisingly powerful for their size, even though they are light and easy to carry. The internal specifications of these laptops are a pleasant surprise.
The primary point of differentiation is the cost. The Swift 3 can be purchased in a number of different configurations, each of which includes 11th-generation Intel i3, i5, and i7 processors, between 8GB and 16GB of RAM, and up to 256GB of SSD storage space. You are receiving more value for your money with any of the alternatives to Apple's offering, regardless of which one you believe will serve you best. Another important advantage is that it has a number of different types of ports, including USB-C/Thunderbolt 4, USB 3, and HDMI.
There are several places in which this isn't as sleek as an Apple machine, most notably the display and the integrated sound, but neither of these things is likely to prevent you from being successful as a DJ.
3. Dell XPS 13 OLED (2021)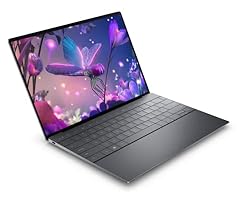 Since many years ago, creatives of all stripes have had a high appreciation for the XPS lineup that Dell offers, and there is a solid reason for this. This Windows laptop has specifications that can compete with those of the MacBook Pro before the M1 update, but it retails at a lower price, making it the most cost-effective option for a DJ laptop.
With an 11th generation Intel Core i5 processor and 8 gigabytes of random access memory (RAM), this device, like its Mac competitors, has more than enough capability for DJing needs. In fact, the XPS is an excellent option for production work as well.
However, it does share some of the disadvantages of the MacBooks, including a limited number of available ports on the device. Due to the fact that there are only two Thunderbolt/USB C ports, it is possible that you will need an adapter in order to utilize more than one piece of external equipment at the same time. However, the inclusion of a slot for Micro SD cards brings an additional choice for external storage to the table.
4. Apple 14-inch MacBook Pro (2021)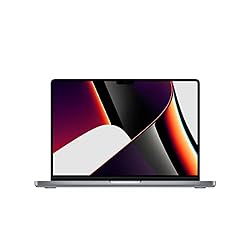 The most recent iteration of Apple's MacBook Pro is equipped with either the M1 Pro or M1 Max processor (depending on how you spec up the machine when purchasing). When compared to the Air, which was just above, these provide a noticeable boost in power.
To tell you the truth, this has more power than you require for DJ purposes alone, and the price tag, which starts at $2,000 or £1,900, shows that you are paying for that power. However, if you want the best equipment to cover all of your DJ and production chores, or if you want to be able to handle intricate visuals to accompany your show, then this could be the way to go.
There are additional advantages to these new MacBook Pros as well, such as an increased number of connections, which includes three Thunderbolt 4/USB-C interfaces, in addition to separate ports for HDMI and SDXC card readers. In addition to this, the storage capacity of the SSD may be increased all the way up to a stunning 8 terabytes on even the most fundamental model.
Even while the MacBook Pro is notably larger and heavier than the MacBook Air, its weight of 3.5 pounds (1.6 kg) ensures that carrying it from gig to gig won't be a problem.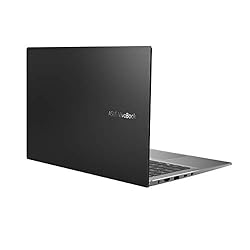 In general, Asus's VivoBook laptops are geared more toward home use than creative use; yet, these Windows 10 machines offer sufficient of power for straightforward DJing needs.
There are additional reasons to recommend them as a basic laptop for DJing as well, the most important of which is their incredibly thin but strong structure, which is excellent for traveling. There is an abundant number of connections available for connecting controllers as well as external storage devices.
Due to the absence of dedicated graphics, these machines would have difficulty rendering images, making them less than ideal for more complex artistic endeavors or for gaming. However, the RAM and SSD storage capacities of the base level can be increased to 16 GB and 1 TB, respectively, while still maintaining a price that is within the fair range for the middle of the spectrum.
6. Microsoft Surface Laptop 4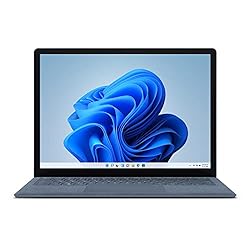 While we aren't yet sold on the concept of utilizing a 2-in-1 Surface computer for DJing, Microsoft's pure laptop counterpart is a great value.
The majority of popular DJ programs will work smoothly on any of the many available configurations of these computers, all of which feature Intel or AMD processors and at least 8 GB of RAM. One of the most important things to consider is the amount of storage space available; the lowest versions typically come with only a 128GB SSD, which will fill up quickly with music.
Microsoft's products are well-made, attractive, and lightweight. The amount of available ports isn't the greatest, but it does include USB-C and USB-A as well as a dedicated Surface Connect slot. Oh, and it's touchscreen too, which is far from an essential function for DJs yet still good to have.
7. Razer Blade 15 Studio Edition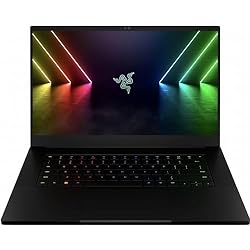 Razer is most well-known for their high-powered gaming laptops with flashy RGB lighting. The Blade 15 Studio Edition is an upscale laptop designed to appeal to the artistic community.
These Windows PCs may be had in a number of different flavors, but no matter which one you choose, you can count on a speedy 11th generation Intel i5 or i7 processor and 16GB of RAM at the very least. The included 1TB SSD and superior graphics capabilities set this variant apart from the competition.
You're paying for a lot of power, and there's more here than what most DJs actually need. This is the greatest DJ laptop if you're looking for a PC laptop that can multitask in the DJ booth, studio, and green room.
8. Samsung Galaxy Book Pro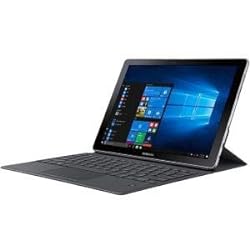 Samsung's Galaxy Books have a portable form factor, a respectable amount of processing power, and some Apple-like features like fingerprint scanners and Dolby Atmos support (although neither of those will exactly come in handy in the DJ booth). If you currently own a Samsung phone, you'll find that it works well with your existing setup.
There is a good selection of ports, including Thunderbolt 4, USB Type-C, and USB Type-A. The internal storage can be increased from 256GB to 512GB via a microSD card, which is a wonderful bonus.
These machines compete head-on with, and in some cases are even more expensive than, their Apple counterparts, which are included at the top of our best DJ laptops guide.
9. Asus ZenBook Pro Duo 15 UX582L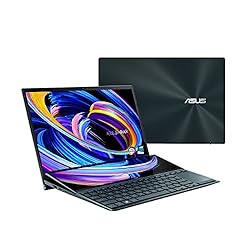 The Asus ZenBook Pro Duo 15 UX582L is as useful a creative workstation as you're likely to find anywhere. It has two touchscreen OLED displays that let you keep your tools close by while freeing up your workspace so you can focus on the task at hand.
Even though it doesn't have the latest Intel Core CPUs from the 11th generation, the Core i7 and Core i9 are more than capable of mixing live sound and recording in the studio.
If you're working on the go, make sure you have access to a power outlet. Otherwise, the music might stop when you least expect it because the battery life isn't the best.
10. Asus ROG Zephyrus G14 Alan Walker Special Edition
The outside of the box is just as important as what's inside when it comes to describing the Asus ROG Zephyrus G14 Alan Walker Special Edition. It's the same fantastic laptop as the standard G14, but with a different chassis color and other keyboard color options. This project, in tandem with the DJ from YouTube, is more than simply a fresh coat of paint, though.
The included box can function as a USB-C-connected mixer or synth pad when used with the appropriate program. The G14 Alan Walker Special Edition provides four ports—two USB-C and two USB-A—so you may use it with your own set of controllers. In addition, it has enough processing speed to deal with most music production sessions.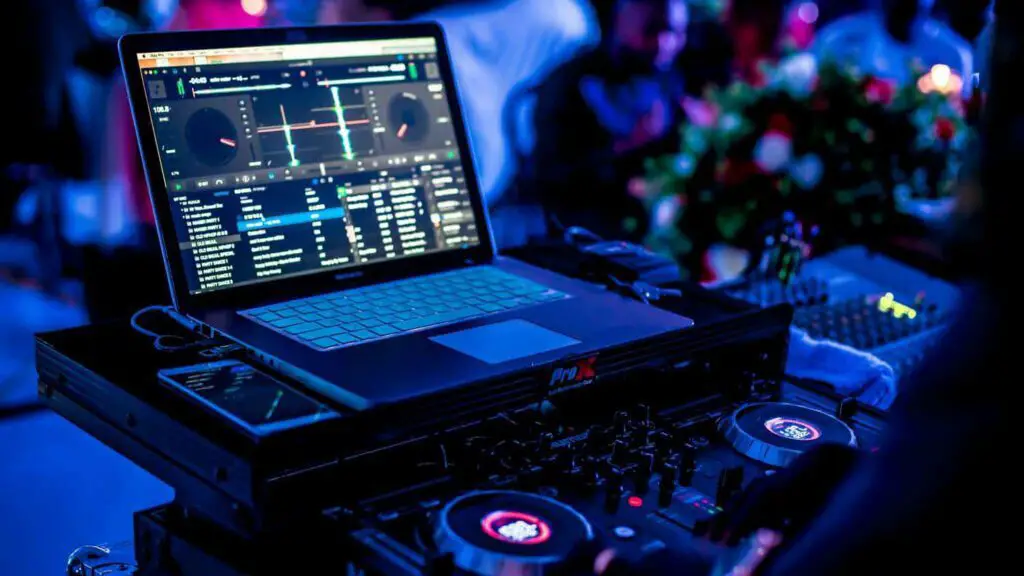 What should you look for in a DJ laptop?
So, what features should a DJ laptop have? The software and type of controller used can have a huge impact on the final sound quality of a digital DJ set. In most circumstances, a laptop is still all that's needed for a DJ setup.
With this compilation, we are making several broad assumptions. First, we're basing our system requirements on those of Serato DJ Pro, Traktor Pro, and rekordbox DJ, the three most widely used DJ software programs. While it's important to research the software's needs before making a purchase, the requirements of most DJ software are about the same.
It's common for these programs to require at least 4 GB of storage space. When performing in front of an audience, though, stability and dependability are more important than ever; for this reason, you shouldn't take any chances with less than 8GB of RAM. You can get away with less power if you're not also planning on using your system in the studio, as DJ software is generally less demanding on the CPU than a complex music production setup including multiple plugins.
Portability factor
If you're a DJ who takes their laptop to different venues frequently, such as nightclubs and music festivals, portability is a must. When traveling for an extended period of time, the battery life of your device may be an important consideration, whether you want to use it for set preparation or just to keep yourself interested.
Storage and connectivity
When shopping for a DJ laptop, storage and connectivity are also crucial factors. If you're serious about DJing, you'll probably end up with a hard drive full with downloaded tunes, in larger, higher-quality file formats, so a decent-sized SSD is a necessary. Streaming is becoming slightly more frequent within DJ software.
A dearth of internal storage need not be a problem if there are external storage options like USB ports or an SD card slot available. Keep in mind, too, that you'll need at least one port to plug in a DJ controller or interface. It's important to think through your setup in advance and select a system with sufficient storage and networking capabilities.
RAM (Random Access Memory)
RAM (Random Access Memory) Memory (RAM) allows your laptop to use several programs at once, which can speed up your workflow when utilizing resource-heavy DJing software. There won't be any performance concerns even if you have a lot of audio tracks, samples, and effects playing at once if you have more RAM.
Display
Display Touch-based controls are another viable application for a touch screen. Visuals in a performance can be kept crisp and clear with the help of a high-resolution screen. If you want to see and tweak your music library or put on a visual presentation with precision, you'll need a color calibrator that does a good job. A touch screen makes it possible to manipulate your music library with the tap of a finger, making it ideal for DJ software.
Battry Life
Battry Life Selecting a laptop with a lengthy battery life is crucial if you intend to DJ while on the go or in an outdoor venue. This will make sure that a dead battery doesn't ruin your show. If you're a DJ who frequently plays at locations that don't have access to electricity, a laptop with a long battery life can be invaluable.
What is the best laptop for making music?
Which laptop is ideal for music production hinges on what steps of the process you need to carry out on your portable device. The MacBook Pro 16-inch is a great choice if you need a computer that can handle everything from raw audio recording through final mixing and publication.
But if you need something lightweight and portable for on-the-go recording and editing, the newest Dell XPS laptops will serve you well and provide you with enough battery life to get through a good-sized recording session.
Best Laptops for DJs -Final Thoughts
Lastly, DJing is a difficult job that requires a powerful, responsive laptop that can handle the demands of a live performance. The best laptop for DJing should have a powerful processor, a lot of RAM, a high-resolution screen, and a long battery life. It should also be strong enough to endure the wear and tear of constant use.
The following are some of the best laptops for DJs:
MacBook Pro: Due to its strong processor, high-resolution display, and robust build, the MacBook Pro is a favorite among DJs.
Dell XPS 13: A thin and light laptop with a strong Intel Core i7 processor and an extended battery life.
ASUS ROG Zephyrus G14: A strong gaming laptop with an AMD Ryzen 9 processor and an NVIDIA graphics card.
When choosing a laptop for DJing, it's important to think about your own goals and budget, and then choose a laptop that fits your needs. You can ensure that you have the tools you need to perform at your best and take your DJing to the next level by doing so.
Related post:
Surface Pro 7 vs Surface Pro 6: The Ultimate Battle of the Tablets
FAQs for Best Laptops for DJs
Q: What are the best laptops for DJs? A: The best laptops for DJs are powerful, portable, and capable of handling the demands of DJ software and music production. These laptops offer fast processors, ample RAM, sufficient storage, and high-quality audio interfaces.
Q: What factors should DJs consider when looking for the best laptops? A: DJs should consider factors such as processing power (preferably Intel Core i5 or higher), RAM (8GB or more), storage (preferably SSD for faster load times), audio quality, connectivity options (USB ports, HDMI, etc.), portability, and battery life when searching for the best laptops.
Q: Can I use a Mac for DJing, or should I consider a Windows laptop? A: Both Mac and Windows laptops can be used for DJing. Mac laptops are popular among DJs for their stability and optimized audio performance, while Windows laptops offer a wider range of options and may be more budget-friendly. Choose the platform that aligns with your preferences and software compatibility.
Q: Are touchscreen laptops suitable for DJs? A: Touchscreen laptops can be useful for DJs, especially when using software that supports touch controls. They can provide intuitive control over DJ interfaces, virtual instruments, and effects. However, touchscreen functionality is not a necessity and depends on personal preference.
Q: Are gaming laptops suitable for DJs? A: Gaming laptops can be suitable for DJs due to their powerful hardware specifications. However, they may be bulkier and have shorter battery life compared to laptops designed specifically for music production. Consider the portability and battery life alongside the performance when choosing a gaming laptop for DJing.
Q: Do DJs need dedicated graphics cards in their laptops? A: Dedicated graphics cards are not essential for DJing unless you plan to use the laptop for video mixing or other graphics-intensive tasks. Integrated graphics found in most laptops are generally sufficient for DJ software and music production.
Q: Can I use external DJ controllers with laptops for DJing? A: Yes, most laptops for DJs are compatible with external DJ controllers. Ensure that the laptop has the necessary connectivity options (such as USB ports) to connect and power the external DJ controller.
Q: Can laptops for DJs handle music production software and plugins? A: Yes, laptops for DJs are designed to handle music production software and plugins. Look for laptops with sufficient processing power, RAM, and storage to ensure smooth operation and efficient music production.
Q: Are there any specific brands that offer the best laptops for DJs? A: Several brands offer laptops suitable for DJs, including Apple (MacBook Pro), Dell (XPS series), HP (Spectre and Envy series), Lenovo (ThinkPad and Yoga series), and ASUS (ROG and ZenBook series). Consider specific models within these brands that meet your requirements.
Q: Can laptops for DJs handle live performance and DJing simultaneously? A: Laptops for DJs are designed to handle live performance and DJing simultaneously. However, it's essential to choose a laptop with sufficient processing power, RAM, and multitasking capabilities to ensure smooth performance during live performances.
Q: Do DJs need large storage capacity in their laptops? A: DJs can benefit from having a large storage capacity in their laptops to store extensive music libraries and recordings. However, if you primarily rely on streaming services or external storage, a smaller SSD with fast read/write speeds may be sufficient.
Q: Should DJs prioritize portability or performance when choosing a laptop? A: The ideal balance between portability and performance depends on individual preferences and needs. DJs who frequently travel or perform on the go may prioritize portability, while those focused on studio work may prioritize performance. Consider your workflow and usage scenarios to determine the right balance.
Q: Can laptops for DJs connect to professional audio equipment and PA systems? A: Yes, laptops for DJs can connect to professional audio equipment and PA systems. Look for laptops with the necessary audio connectivity options, such as line-out or dedicated headphone jacks, to connect to external audio devices.
Q: Do laptops for DJs require any additional software or drivers? A: Laptops for DJs may require specific drivers or software provided by the DJ controller manufacturer or the DJ software itself. Ensure that the laptop is compatible with the required software and drivers for optimal functionality.
Q: Can laptops for DJs run multiple DJ software simultaneously? A: Laptops for DJs can run multiple DJ software simultaneously, provided the laptop has sufficient processing power and RAM. However, it's advisable to check the system requirements of the specific DJ software to ensure compatibility.
When selecting the best laptops for DJs, consider your specific DJing needs, performance requirements, budget, and software compatibility. Read reviews, compare specifications, and consult with experienced DJs to find the ideal laptop that meets your DJing and music production requirements.