Looking for the best Onkyo receivers? We've got you covered. Check out our top picks and find the perfect one for your onkyo home theater setup.
If you enjoy movies but would rather watch them in the comfort of your home, an AV receiver may be a good investment. Modern AV receivers have cutting-edge features like 8K video, Dolby Atmos, and Wi-Fi audio streaming, so it's easy to make your home feel like a movie theater. But the technical details of these gadgets can be really hard to understand, making it hard to choose the best one for personal use. Top5ones has put together a list of the best Onkyo receivers that you can buy right now.
The Yamaha RX-V6A and Onkyo TX-RZ50 are two of several models that excel at both TV and music playback, so you can split your time between the two without sacrificing quality. Denon is another popular option, and I will soon have the chance to put their new AVR-X3800H through its paces.
How do you decide on the ideal home theater receiver? To help you find the best Onkyo receivers available in 2023, I've looked at the most popular ones that cost between $500 and $2,000. Keep in mind, though, that it's possible that some of these items are temporarily out of stock; therefore, you should check back with us occasionally.
1. Onkyo TX-NR7100 – Overall Best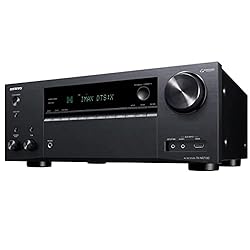 Multifunctional Onkyo TX-NR7100 receivers improve video and sound quality. Musical staging, crisper conversation, and deeper bass create this impact.
This 9.2 channel THX-certified AV receiver gives you theater-like sound at home cinema. His amplifier can deliver high currents, achieving real spatiality and maximal localization precision.
The Onkyo TX-NR7100 supports Dolby Atmos and DTS:X. This model builds 3D systems up to 5.2.4 without amplifiers. Dolby Atmos Height Virtualizer creates virtual surround sound. IMAX content processing is also included.
The AV receiver has two outputs for 4K video with Dolby Vision and HDR10 and seven inputs for HDMI. These inputs convert 1080p to 4K. HDMI inputs 1–3 and Main/Sub outputs support 8K/60p (4:2:0, 10-bit). AV receivers offer 32-bit/384 kHz DACs for precision signal processing. VLSC technology reduces AV receiver low-level signal distortion.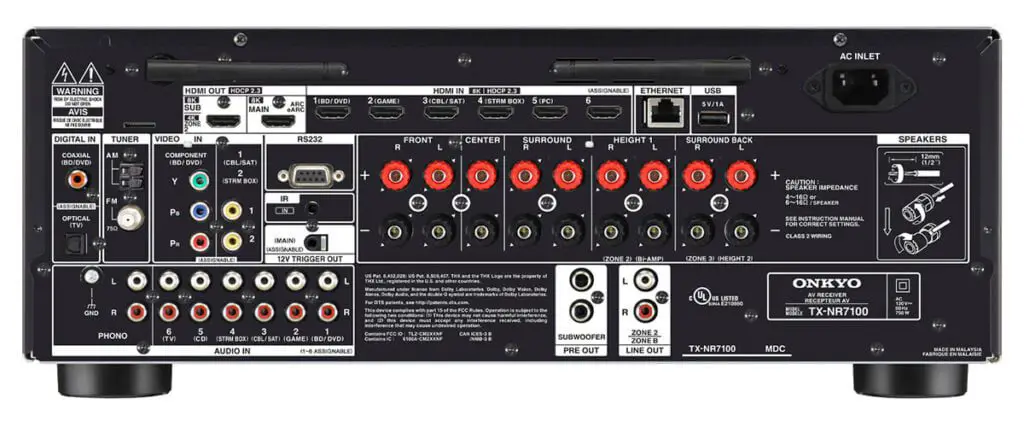 For networking, the Onkyo TX-NR7100 uses a next-generation SoC module that is separate from the audio circuitry. This is done to avoid cross-talk distortion. The AV receiver supports DTS Play-Fi, Chromecast, and FlareConnect for multi-room setups. The Onkyo TX-NR7100 can play 24-bit/192 kHz (PCM) and DTS 11.2 MHz audio files over Ethernet or Wi-Fi. For external control, the AV receiver has jacks for RS-232, Ethernet, a control trigger, and an IR sensor.
Its tremendous bass punch, rapid dynamics, and great resolution without granularity impressed me.
The TX-NR7100 is the greatest Onkyo AV receiver because it has more intriguing features. This receiver is a must-have for audio and video fans because it has easy-to-use voice control that works well, separate HDMI switching for Zone 2, support for many audio formats, Bluetooth, Wi-Fi, and more. I think this is a good buy that will please many future owners.
2. Onkyo TX-SR494 – Budget Choice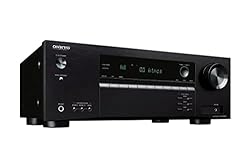 I recommend the Onkyo TX-SR494 receiver next. This device has nine audio channels, and seven of them have their own amplifiers with high output currents that can deliver 160 W at 6 ohms or 80 W at 8 ohms.
The TX-SR494 boosts home theater sound. Seven high-current gain channels let you configure your speakers. The receiver lacks significant features at high and low frequencies. The sound was static. Muted vocals. Dolby Atmos Height Virtualizer and DTS Virtual:X provide the most realistic sound.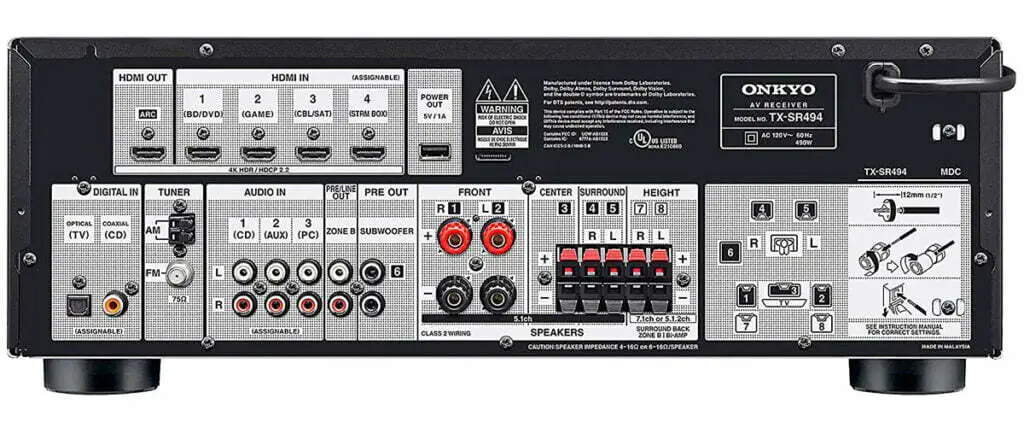 This receiver's technical technology helps produce high-quality sound. A 32-bit/384-kHz multi-channel AKM-DAC receives the signal. The TX-SR494 is the greatest cheap home theater AVR because of its bespoke DAC design.
Even though the gadget is cheap, it has an automated AccuEQ calibration with a woofer equalizer and AccuReflex for 5.2.2-channel systems that support Dolby Atmos. This makes sure that the sound is clear in every room.
After doing some testing, we can say with confidence that this model is the cheap excellent receiver because it has all the features you need for an entry-level home theater at a fraction of the price.
3. Onkyo TX-NR6100 – Music Lovers Choice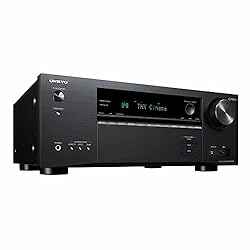 The Onkyo TX-NR6100 is a good-looking and feature-rich A/V receiver that would look fantastic on any home network.
This device's 7.2-channel receiver will improve your gaming, music listening, and movie-watching experiences. This gadget is similar to the TX-NR7100 in that it can play 4K and 8K media. The DIRAC live room correction feature is not available, though.
In order to ensure a seamless viewing or listening experience, the latency between the source and the display has been optimized with the help of the auto-low latency mode and the quick frame transmission function. Dolby Atmos and DTS:X are also supported, giving you the ability to attach a surround system that makes use of height to create a truly immersive, multidimensional aural environment.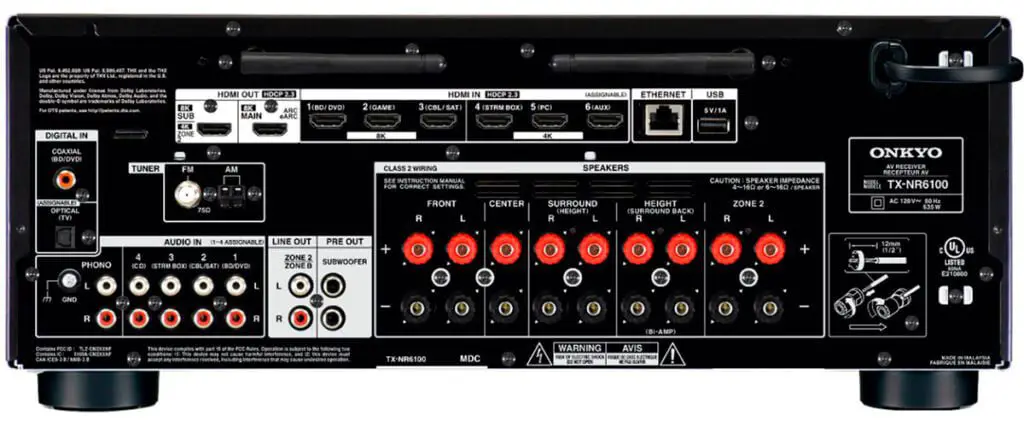 This AV receiver also features three HDMI outputs, 100 watts per channel, and support for uncompressed HDMI 2.1 8K at 60 fps and 4K at 120 fps with HDR over 40 Gbps. But it's too bad that there isn't an HDMI connector on the front of the device.
The Onkyo TX-NR6100 receiver produces a full sound field with a warm tone, crisp highs, and solid bass. In any case, the equalizer's settings can get a little out of hand. In order to get the best sound from each speaker, you must tweak the settings blindly.
The Onkyo TX-NR6100 is a great option for music lovers who want to upgrade their home theater setup and benefit from high-quality surround sound.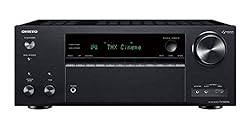 This same company also makes the TX-NR696, which I think you'll find interesting. The Onkyo TX-NR696 has strong amplification, producing up to 210 W per channel at 6 ohms or 100 W at 8 ohms. My opinion is that it is perfect for setting up a 7.2-channel or Dolby Atmos 5.2.2 home theater.
I will explain my thinking process in coming up with this concept. To begin, the TX-NR696 is backwards compatible with older versions of multi-channel audio formats like Dolby Atmos and DTS:X. Additionally, the Onkyo TX-NR696 amplifier can simulate a reproduction on seven speakers from a 5.1-channel setup with the help of its robust DSP capabilities.

To be perfectly honest, you should pay attention to it if you want something flexible that works well with music, movies, or streaming media. In each of these settings, the Onkyo TX-NR696 delivers satisfying audio.
In a head-to-head comparison with the Denon AVRS740, which is also in its price range, I discovered that this one was the better option. The Onkyo TX-NR696 has a dynamic sound field and does a great job of handling sound effects from movies. The action is non-stop, so you won't miss a thing.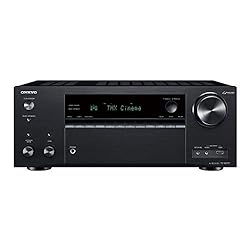 Next, I'll talk about a model that deserves to be called one of the best Onkyo receivers on the market right now. The 9-channel amplifier provides 100 W of power into a 4 ohm load and 220 W into a 6 ohm load with consistent performance. The first item on my list stands out from rivals like the Denon AVR-X3600H because of its superior continuous output power.
The TX-main NR797's selling point is that its strong toroidal transformer can send the same amount of output power to each channel. This allowed me to get a sound quality similar to that of a movie theater.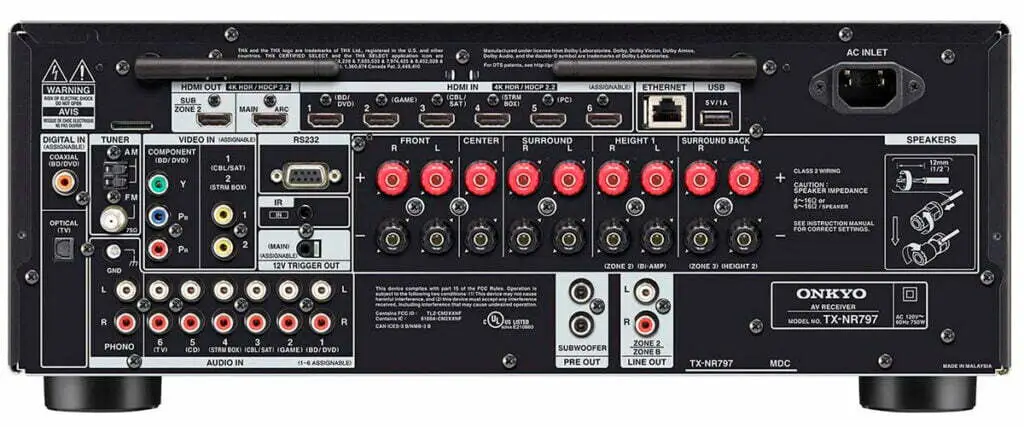 Still, I wouldn't be able to attain a good sound quality without precise calibration. The NR797 is equipped with Onkyo's AccuEQ Advance, a room calibration device that takes readings from 9 different locations. One truth, though, will undoubtedly come as a nice surprise, and that's the fact that the sound quality in the main auditorium is excellent. We can link up more Sonos speakers to distribute the sound across the house.
The demo video of the model's features was also very impressive. 4K video at 60 frames per second is fully supported. But surprisingly, upscaling a standard 1080p stream to 4K works perfectly. I also want to mention the receiver's surround sound for the sake of detail. Both Dolby Atmos and DTS: X decoders are available in full here.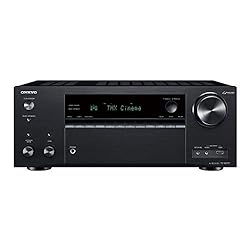 Next up in my evaluation is the Onkyo TX-RZ840, a device I've found to be both capable and interesting. And, just like me, your first thought will be to be amazed by how beautiful the receiver is.
The TX-towering RZ840's 8-inch height was immediately noticeable. The TX-RZ740 is like the current model in that it has a screen and a few buttons and knobs on the front panel. Aside from that, it's constructed from superior black metal.
Let's check out the receiver's back panel. Counting the one concealed below the cover, there are seven HDMI inputs in total. Each and every one of them supports 4K resolution, HDR, and HDCP 2.2. There are seven analog audio inputs accessible, including a phonograph input.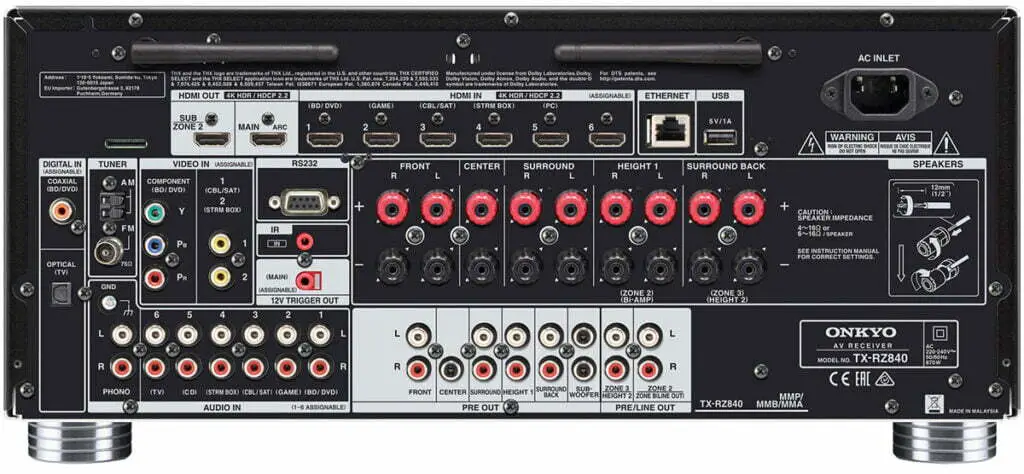 If the equipment's function and purpose are clear at first glance, all that's left to do is learn about its features. It's not a bad receiver for the price. It has a range of 250 W at 3 ohms, 220 W at 4 ohms, and 130 W at 8 ohms, depending on the load.
In order to get a feel for the RZ840's sonic signature, I started the test by playing a few Blu-ray movie clips. Also, it was clear right away that this amplifier did not belong with the other very dynamic devices. The high and low frequencies don't fare as well with it.
The receiver's ability to fill the room with surround sound, though, was impressive. The fronts should ideally be wired to the side channels and the ceiling speakers. There are no pauses in the sound's "motion," and everything sounds as it should. The RZ840 is a model of understated excellence, an unflinching mastery of its subject matter. The sound is very dramatic, and the subwoofer channel fits in seamlessly.
Some Features Of AV Receivers To Look For
It can be hard to understand and use the technical features and functions of an AV receiver. (For instance, what exactly is "Ultra HD"?) But what features should you prioritize when selecting a new automobile? I will summarize the most critical ones in this section.
Input for High-Definition Multimedia Interface
Most new TVs and set-top boxes have HDMI ports, so it makes sense to buy a receiver with as many HDMI inputs and outputs as possible. Because most people don't hot-plug HDMI devices, the number of inputs on the back is more essential than the number of front ones. (How else will you link your Roku, Blu-ray player, Nintendo Switch, and any other gadget you own?)
The Onkyo TX-NR6100, the Denon AVR-S960H, and the Yamaha RX-V6A all have six HDMI inputs, while the Yamaha RX-V6A and the Denon AVR-S960H both have seven. Except for the Yamaha, all of the other players have a second HDMI output that lets you connect two monitors at the same time. Also, always have a spare HDMI cable on hand; just like the missing sock from a pair, you never know when you'll need one.
Capability with Dolby Atmos:
Several new receivers that cost $500 or more come with Dolby Atmos and DTS:X, but their effects on watching movies in a home theater are often minimal at best. In other words, if you don't install at least one tall speaker, you won't miss out on these formats. In order to achieve truly immersive sound, you need to place your rear surround speakers high on the wall.
Wi-Fi streaming capabilities:
Most mid-range receivers now come with Wi-Fi built in, so you can stream music to your speakers wirelessly. Spotify Connect, Apple AirPlay 1 and 2, and Google Chromecast built in are the most widely supported wireless streaming technologies. When putting together a multiroom system with different audiovisual components and wirelessly connected speakers, you should try to get one of these three flavors.
Only Onkyo equipment provides support for all three. If you're looking for a Denon receiver without Chromecast built in, you'll have to settle for AirPlay 2 or the Denon-exclusive HEOS system. Yamaha, however, has its own MusicCast platform.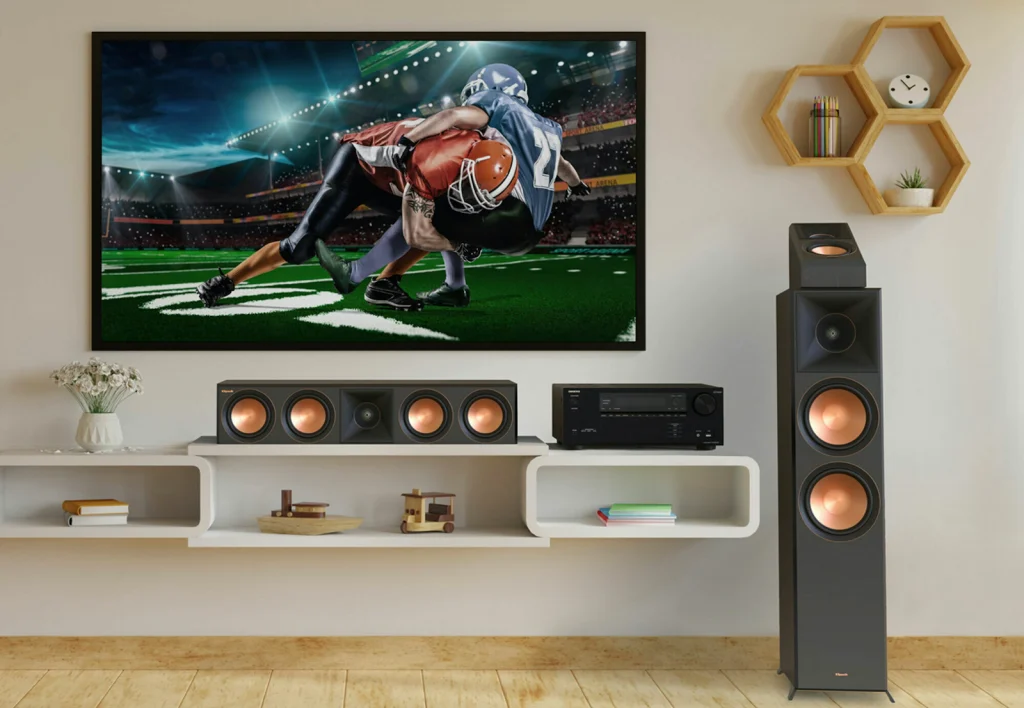 What receiver should I purchase?
The Yamaha RX-V6A, Onkyo TX-NR6100, and Denon AVR-960H are the three most popular options for AV receivers in its price range, and all three deliver good performance for the money. Currently, that model is the Denon because it can be purchased for $599; however, I personally like the Yamaha RX-V6A because it is both attractive and powerful. The Xbox Series X can be connected to any one of its many HDMI 2.1 connectors, and it has many more ports besides.
If the Yamaha is not available, the Onkyo TX-NR6100 is a great replacement. The Onkyo has the greatest streaming suite and is the easiest to set up and use. It also looks great and has plenty of useful functions. Early versions of the Yamaha RX-V6A had a problem with 4K, but that problem never showed up with this model.
Meanwhile, if you're seeking a step up in features and performance from receivers priced around $1,000, the Onkyo RZ50 is a great option. It has the most features of any streaming service and comes with the amazing, but slightly unsettling, calibration routine for Dirac Live. Music and movies both benefit from its high-quality sound.
Finally, the Yamaha RX-A4A, at $1,650, provides clear, dynamic sound and superb build quality for those who seek home entertainment.
How We Test AV Receivers
At Top5ones, we do listening tests for anything from portable soundbars to home theater systems, and my approach is always the same. The best performing devices in their price range serve as my reference standard, and we constantly check how a product measures up against those.
Since most people will want to listen to music and watch movies on their receivers, we're interested in testing their versatility. We analyze factors like Dolby Atmos performance and dialogue quality by watching a few test scenes in 4K on Blu-ray or via a 4K streaming service like Vudu. We also tested out the audio streaming options (such as Bluetooth and Wi-Fi) using a variety of tracks. Devices that excel with both sorts of media will always be the most popular.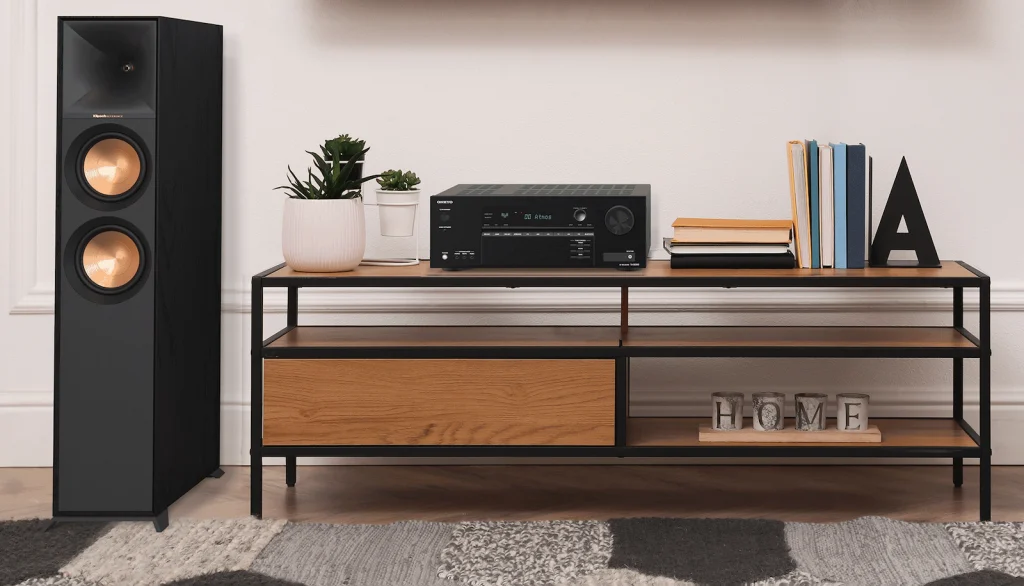 Best Onkyo AV Receivers FAQs
Q. How good can a cheap soundbar sound?
Even a small investment can yield huge dividends because TV speakers are notoriously terrible. You can get a device that serves as both a wireless music streamer and a TV sound system for about $100. Over the past few years, the sound quality of cheap soundbars has also gotten better, thanks in part to subwoofers at this price point. No portable TV speaker can compete with a home system when it comes to bass.
Q. Who manufactures the most trustworthy AV receivers?
Several names spring to mind, that's for sure. Marantz, Pioneer, Denon, Onkyo, Yamaha, Arcam, NAD, etc. are just a few of the most well-known names in the receiver industry. It's not uncommon to find the same (or nearly identical) capabilities on comparably priced AV receivers from the aforementioned five brands (+ Integra), as they are now all part of the same audio firm named Sound United and often share technologies.
Q. Do AV receivers change the audio quality?
The audio quality is significantly impacted by the AV receiver. After all, they're in charge of taking in signals from all of the different inputs, processing those signals, turning the digital ones to analog, and then amplifying everything. How good the sound is is dependent on all those factors. Consequently, AV receivers are crucial for optimal sound quality.
Q. How do I decide which AV receiver to buy?
Since this was already covered in the introduction, let's quickly review it again. Before doing anything else, establish some financial constraints. Second, count the number of HDMI and other inputs you'll need to hook up all of your current and potential future sources. Finally, ensure that the receiver you choose has sufficient speaker outputs and power to drive all of your home theater speakers. Lastly, think about what else would be useful to you (Bluetooth, wifi, apps, Chromecast, AirPlay, internet radio, etc.).
Q. Do AV receivers that cost more sound better?
Yes, usually. Higher-end receivers provide greater signal processing, power output, and sound. The quality of the speakers, sources, and original music going to your receiver are also significant. A high-end AV receiver with low-quality speakers is pointless.
Best Onkyo Receivers - Final Thoughts
Onkyo has been a powerhouse in the receiver market for many years, and their receivers continue to be some of the best on the market. From entry-level models to high-end models, Onkyo has something for everyone. The company continues to innovate and push the envelope when it comes to sound quality and features. With so many options available, you're sure to find an Onkyo receiver that fits your needs perfectly.
Our top pick, the Onkyo TX-NR7100 9.2-Channel THX Certified AV Receiver, is the first in the series to have 9 channels and a fully ready DIRAC Live Room Correction built in. It gives a whole new meaning to the phrase "home movie night."
More audio recommendations: