Everyone who drinks coffee has at least heard of the Bunn brand. Bunn  Coffee makers have consistently been regarded as among the best available among coffee lovers. Have you ever tried a Bunn coffee machine? If so, you know how reliable they are and how well they brew coffee.
To help you get your day started right, we've compiled a list of the five best espresso brewers from Bunn. The good and the bad of each unit will be discussed in detail for your benefit.
Best Bunn Coffee Makers: Review
1. BT Velocity Brew 10-Cup Thermal Carafe Home Coffee Machine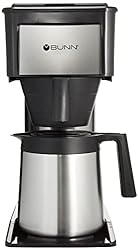 The BUNN BT, GRB, BXW, and NHS velocity are just some of the quickest home brewers in the brand's extensive lineup of coffee makers.
The aforementioned BUNN coffee makers all differ from one another in minor ways, most of which are aesthetic.
Below, we compare and contrast several popular models from BUNN, including the NHS Velocity Brew 10 with its spherical, non-thermal carafe, and the GRB, a more affordable option.
The BT drip coffee maker was chosen as our top option because it is the most reliable and efficient machine of its kind. In only three minutes, this gadget can make enough coffee for ten people and keep it warm in a thermal carafe.
Not only is the BT Velocity 10-Cup fast, but it also has other benefits. The soluble chemicals in your ground coffee are equally extracted using a multi-stream spray head. As an added bonus, it has a thermostat that was designed specifically for usage in mountainous regions.
Have you ever come home after a hard day only to find your coffee cold? The coffee brewer comes with a thermal carafe made of stainless steel, so you won't have to reheat your brew on the stovetop or in the microwave. It will keep your coffee hot for up to two hours.
The BT Brew 10-Cup home brewer is a monster, measuring in at 7.5″ wide by 13″ long by 15″ high; make sure you have enough room on your counter to accommodate it.
So, if you want a simple coffee brewer that maintains a steady temperature, this is it. When it comes to this manufacturer, we think the BT is the best brewer available hence our top pick.
2. BUNN Velocity Brew 10-Cup Coffee Maker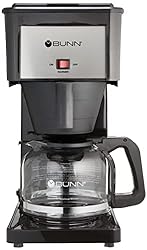 There is a stainless steel hot water tank in the Bunn GRB Velocity Brew 10-Cup Home Coffee Brewer that maintains a steady warmer temperature so that you may brew a pot of steaming coffee whenever you choose. A complete pot may be brewed in approximately three minutes, and you can make anywhere from four to ten cups at once.
This Bunn model has a spray head with several streams that evenly disperse water over the coffee beans, maximizing flavor extraction. The coffee is then transferred to a container made specifically to prevent spillage during the pouring process. In addition, the porcelain-coated warming plate will keep the coffee steaming for those who sleep in.
The only way this machine might be improved is if it could be programmed to start brewing coffee at a specific time, such as when you get up in the morning. Additionally, you need to be wary about how much water you put into the tank. This machine's coffee ground drawer has a tendency to overflow, making a mess if it's overfilled.
3. BUNN Speed Brew 10-Cup Coffee Brewer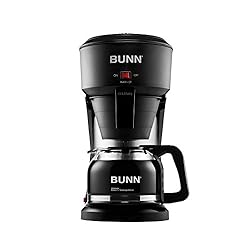 This 10-cup coffee maker has a sleek, commercial look that will make you feel like an expert every time you brew. Simply push a button, and in less than three minutes, you'll have a steaming cup of coffee made from freshly ground beans.
It's perfect for entertaining company because it can brew anywhere from four to ten cups of coffee at once.
Bunn's unique multi-stream spray head is included on the BUNN Speed 10-cup brewer, ensuring that the hot water is uniformly distributed over the grounds for a more delicious cup of coffee. The coffee filter may also fit finer coffee grounds, which will provide a stronger brew.
With this drip-free carafe, you can enjoy your cuppa coffee without worrying about splatters. It has a narrow opening that focuses the flow of liquid into your cup. The strength of your brew may be easily gauged by looking through the glass carafe.
Some Bunn Speed Brew 10-Cup coffee makers have been known to spill their contents, so you'll want to be careful while filling yours with water if you plan on buying one.
As a whole, this BUNN coffee machine is ideal for the time-conscious consumer who doesn't want to sacrifice quality for convenience.
4. Bunn Coffee Brewer (MCU)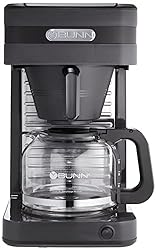 Today's consumers have shown a marked preference for single-cup coffee machines. They are simple to use and produce a single, high-quality cup of coffee in a short amount of time. The MCU Single Cup Home Coffee Brewer from Bunn may be used in a variety of ways. K-cups, whole beans, coffee grounds, loose tea, tea bags, and even plain hot water are all viable options for brewing. In addition, a cup is included.
There are two major issues that we encountered when using this coffee machine. To begin, there is no way to turn it on or off. Simply plug it in when you're ready to brew and disconnect it when you're done. As soon as you plug in the machine, it will start making coffee, so be sure to have your cup ready.
A second issue is that while the machine can brew coffee from freshly ground beans, it lacks a simple method for disposing of the used grounds. Either a spoon or a rap on the side of the trash bin will do the trick. If you choose to dispose of your waste in a trash can, you may have to rummage among the rubbish until you discover the lid, which frequently happens.
5. BUNN Heat N Brew Programmable Coffee Maker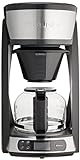 For maximum ease of use, the Bunn HB Heat N Brew Programmable Coffee Maker is an excellent investment. The digital timepiece includes a convenient programming interface. Brewing a pot of coffee takes about 10 minutes, and the automated warming plate will keep it warm for up to two hours after you've finished. After that time, it will turn off by itself, which is a good safety feature.
When compared to other models of the same brand, this Bunn coffee maker requires more grounds to produce the same amount of brewed coffee. Due to the somewhat increased amount of water used, the flavor is somewhat diminished. It's also easy to overload the filter, leading to unpleasant spills.
Carafes of this type are designed to not break or leak. The odd form of the carafe makes it difficult to fill the last few glasses.
6. BUNN VPR-2GD Coffee Brewer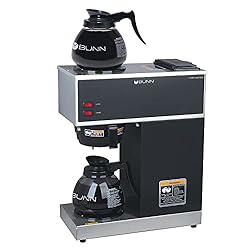 You can make as many as 12 cups of coffee at once with the Bunn VPR-2GD. The set has two glass decanters and two warming plates. It's important to note that this particular Bunn model is rather space-hungry, since its footprint is pretty substantial. It's preferable for commercial use rather than residential use.
Two more problems exist with this paradigm. No power toggle is available. After being plugged in, it operates nonstop. It is also difficult to judge the water level, necessitating the use of a measuring device to ensure an appropriate pour.
The volume is the main issue with this brewer. Keeps coffee warm quietly but makes a lot of noise while preheating water for brewing. If you don't want this equipment to cause any distractions, think carefully about where you put it.
7. BUNN CSB3T Speed Platinum Thermal Coffee Machine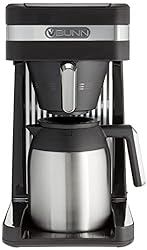 In terms of selling points, the CSB3T prides itself on being extremely practical. The hot water tank is made of stainless steel and is designed to keep water at brewing temperature all day long, saving you the trouble of waiting for it to heat up.
The CSB3T, like our other top options, boasts a longer funnel and a specialized spray head for enhanced coffee flavor. It's ideal for large families because it can prepare 10 cups of coffee in under 4 minutes.
This brewer comes in a second variant, optimized for use at high altitudes. Since water at a high altitude tends to boil at a lower temperature, the resulting coffee may lack flavor. Equipment issues are also possible if it was not manufactured for use at such a high altitude.
Are you considering investing in a coffee maker that can provide fresh brews of great coffee whenever you desire? The CSB3T is the best home coffee brewer you can buy.
8. BUNN VP17-1SS Pour-Over Coffee Maker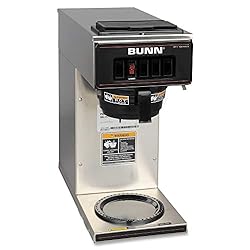 While it has all the features of a commercial coffee maker, it doesn't need a connection to a water supply. Even if it doesn't, it'll be useful around the house. To use it, simply fill the internal water tank.
The VP17 is also the most durable among our list due to the high-quality stainless steel shell and inside. Some customers even say that they've been using this model for the past two decades without any trouble!
Do you have a lot of coffee connoisseurs in your family or workplace? You may start your own coffee beverage company.
Well, you won't have to worry about running out of coffee very soon, as this coffee maker can brew up to 3.8 gallons (14.4 liters) of coffee each hour.
That's correct; it says "per hour" right there!
You'll want to make sure you have enough room for this massive brewer, and you should also know that it's on the pricier side.
The BUNN VP17-1SS Pour-Over Coffee Maker is a terrific investment for any kitchen, whether at home or in the workplace, because it is built to last and produces excellent coffee every time.
Buying Guide For Bunn Coffee Makers
The company has made a name for itself in the market for high-capacity coffee makers, and its products can be found just about anywhere.
So, after reading BUNN coffee maker reviews, how do you pick the right brewer for your needs?
You may narrow down your options for a home coffeemaker by considering how often you drink coffee, what kind of brew you like, and what kind of aesthetics and functionality you'd like in your brewer.
We explore some more considerations when buying a brewer below. 
Coffee Machine Capacity
How much coffee you drink helps you choose BUNN coffee makers. Choose a coffeemaker based on how much you and your family drink.
Do you consume numerous cups of coffee daily or live with someone who does? A high-capacity machine can brew numerous cups at once.
Most of the BUNN coffee machines featured below brew 10 cups at once. These machines can brew faster, making more cups per day than smaller ones.
High-capacity water tanks mean less time replenishing and more time sipping.
If that quantity is too low, consider the VP17-1SS. It can brew 3.8 gallons per hour without an external water connection, making it ideal for workplaces and big families.
Some of these machines can be used for single-cup multi-use, but it's neither practical or cost-effective, especially if you want a rapid caffeine dose. Waste water and coffee!
Only drink one or two cups a day? Get a single-serve coffeemaker to conserve water.
Tiny machines can make a single cup in a minute, making them ideal for smaller homes. The MCU single cup is the brand's only single-serve brewer.
The BUNN MCU single cup brewer is outdated, and the replacement is expensive, thus we don't suggest it. If you have a BUNN MCU single cup multi use brewer and want an enhanced single serve, check out our list.
Interesting BUNN Features
The brand makes fast-brewing coffee makers.
If brewing speed is important to you, check out BUNN's Speed and Velocity lines for a rapid machine.
The BT brews 10 cups in 3 minutes. BUNN NHS Velocity Brew 10-Cup, CSB3T Speed Brew, or BUNN GRB offer similar speeds, but less features. GRB velocity is an affordable selection.
The VP17-1SS brews a liter of coffee in 4 minutes, which is fast for a commercial machine. It features a hotplate to keep your coffee carafe warm, although the carafe is optional.
Check the 10-cup coffee brewer's carafe before purchase. Some variants come with a 2 hour stainless steel canister. Older versions feature a see-through glass carafe to watch brewing.
All of the companies' brewers are made with stainless steel and food-grade silicone.
The brand offers brewers with a heat-retaining water tank that keeps coffee hot with every changeover.
BUNN's 10-cup brewers feature a unique spray head to extract more flavor from coffee beans. Because the spray head uniformly wets the coffee grinds with hot water, extraction is more consistent.
You may use longer filters to increase the amount of coffee grounds in the machine.
Some brewers, like the BT or the CSB3TD Speed Brew, are engineered to perform effectively at high altitudes.
Single-serve machines provide more choice in hot drinks. BUNN MCU can brew loose-leaf, coffee pods, tea bags, and K-Cups.
Coffee Machine Brew Preference
Consider your coffee maker brew choice when buying a coffee machine.
If you don't want to spend all day tuning your manual pour-over, an automated brewer is the way to go. Most can be brewed with one (or no) button.
Most coffee machines are quick and straightforward to operate. Most of their brewers merely require water and grinds before brewing.
These brewers are reliable. Temperature and water flow can affect coffee quality.
The greatest BUNN coffee makers are temperature-controlled. These devices employ a well-designed spray head to water your grounds properly.
If you want to make the most of your coffee beans, choose a customisable brewing technique.
Get a brewer that suits your needs and tastes.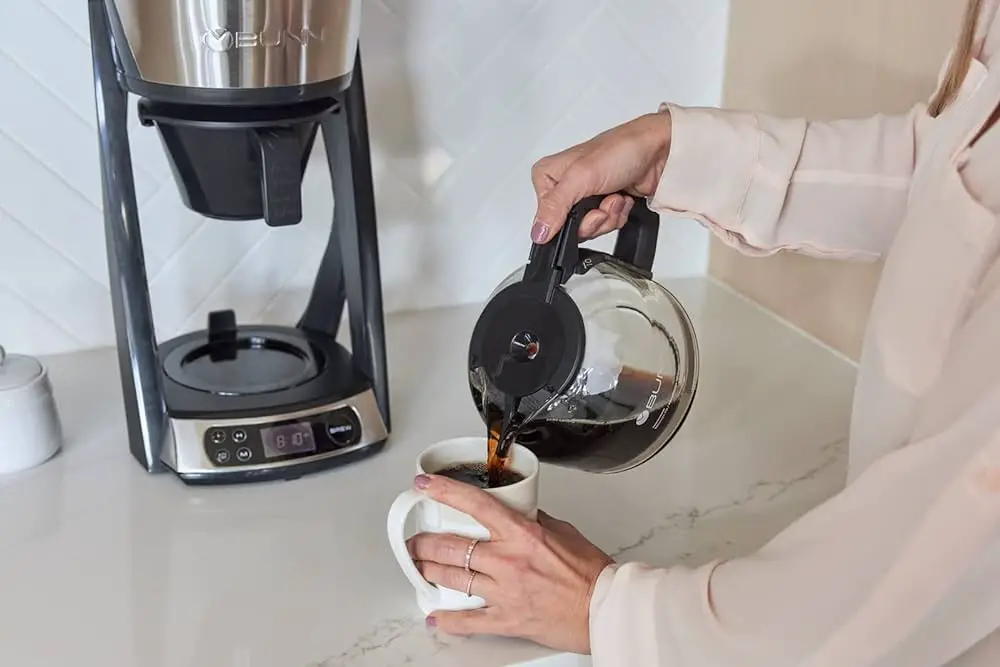 BUNN's BT 10-cup brewer is our best overall.
Fast, consistent, and dependable machine's name. It's a handy coffee brewer.
Its capacity to keep water boiling hot and the thermal carafe are a fantastic mix for anybody searching for kickass drip coffee anytime.
The BUNN BX Speed Brew has a sleek design and rapid brewing times.
Check out the machines above to discover one that meets your needs, whether you drink coffee for the caffeine or for the flavor. Stay tuned for Coffee for more coffee brewer brands while you enjoy your coffee.
FAQs for Bunn Coffee Makers
Q: What are Bunn Coffee Makers? A: Bunn Coffee Makers are high-quality coffee brewing machines produced by Bunn, a renowned manufacturer of beverage equipment. These coffee makers are known for their durability, speed, and ability to brew coffee with optimal flavor and quality.
Q: What makes Bunn Coffee Makers special? A: Bunn Coffee Makers are special due to their unique brewing process called "Brewing Velocity." This process ensures that water flows through the coffee grounds at an optimal rate, resulting in a flavorful and aromatic cup of coffee in a short amount of time.
Q: Are Bunn Coffee Makers suitable for home use or commercial settings? A: Bunn Coffee Makers are suitable for both home use and commercial settings. Bunn offers a range of coffee makers designed for different capacities and usage requirements, allowing customers to choose the model that suits their needs.
Q: Can I brew a large quantity of coffee with Bunn Coffee Makers? A: Yes, Bunn Coffee Makers are known for their ability to brew large quantities of coffee. They offer models with different capacities, including single-cup brewers, multi-cup brewers, and commercial-grade machines capable of brewing several gallons of coffee per hour.
Q: Do Bunn Coffee Makers have programmable features? A: Yes, many Bunn Coffee Makers come with programmable features. These features allow you to set a specific brew time, pre-infusion time, and keep the coffee warm at your desired temperature. Some models also offer automatic shut-off for added convenience and energy efficiency.
Q: Are Bunn Coffee Makers easy to clean and maintain? A: Bunn Coffee Makers are generally easy to clean and maintain. They often have removable parts that can be washed separately, and some models come with self-cleaning features. It's important to regularly clean and descale the coffee maker to ensure optimal performance and longevity.
Q: Can I use different types of coffee grounds with Bunn Coffee Makers? A: Yes, Bunn Coffee Makers are compatible with different types of coffee grounds, including pre-ground coffee and freshly ground coffee. Some models also offer options for adjusting the strength of the brew to suit your taste preferences.
Q: Are Bunn Coffee Makers known for their durability? A: Yes, Bunn Coffee Makers are renowned for their durability. They are built with high-quality materials and craftsmanship, ensuring that they can withstand frequent use in both home and commercial environments.
Q: Can I find replacement parts and accessories for Bunn Coffee Makers? A: Yes, Bunn provides replacement parts and accessories for their coffee makers. You can purchase additional carafes, filters, decanters, or replacement components directly from Bunn or authorized retailers.
Q: Are Bunn Coffee Makers backed by warranty? A: Yes, Bunn Coffee Makers typically come with a warranty. The warranty period may vary depending on the specific model and region. It's advisable to check the warranty terms and conditions provided by Bunn for each coffee maker.